In March, we hosted our first guests of the conference series "Hisar Talks: Discussing the Future…" organized in honor of the 25th anniversary of our school. In our second conference, which will take place on Thursday, April 29, 2021 at 10.30, we will continue to examine the future from the perspectives of developing technologies, innovation and ethical values.
How did we travel from agricultural societies to the industrial revolution and the computer age? What is the role of artificial intelligence in the reality we are dealing with today? What are the responsibilities that fall on us and the different sectors for the sake of our planet's sustainability? In our second conference, we will ask many interesting questions to experts in their field.
 We are aiming to search for the answers to these questions at our Conference entitled "We are just beginning: Human, Nature and Artificial Intelligence", along with our distinguished guests journalist Füsun Sarp Nebil, Environmental Scientist and Ashoka Senior Fellow Uygar Özesmi and Turkey Informatics Foundation President Faruk Eczacıbaşı.  In the discussion panel, Hisar School 11th grade student Hazal Aylin Kara and 12th grade student Can Aydın will also participate and ask questions to our guests.
Hisar School have implemented the "Open Source" approach with the awareness of social responsibility. In line with this this approach, our second conference will be broadcast live and open to the public to reach students, their families and educators in Turkey. We will be happy to see you all among us at our conference, where our students actively participate in the organization phase.
Our conference will take place on the Zoom platform and but you can also watch it simultaneously on our YouTube channel.

Hisar Talks: Discussing the Future….
We are just beginning: Human, Nature and Artificial Intelligence"
Date: Thursday, April 29 2021
Time: 10:30
Guests: Füsun Sarp Nebil, Uygar Özesmi, Faruk Eczacıbaşı
Zoom Live Broadcast Link:
https://zoom.us/j/93385175239?pwd=c0JaRCs2UVgyTHJwL0xQYkVWU0haUT09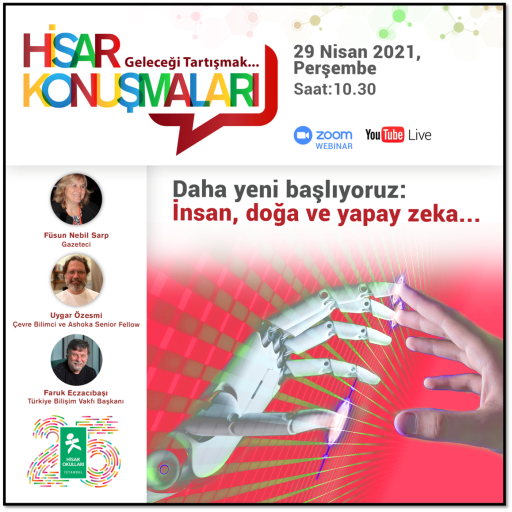 Guest Speakers' Resumes:
 
Füsun Sarp Nebil
After getting a msc degree in Nuclear Engineering from Istanbul Technical University, Füsun Nebil worked in informatics and telecommunication. Nebil reported on these areas on the website turk-internet.com which was founded by her in 2000.  She also continues to publish articles on technology in EMO, Bosphorus University Alumni and legal journals and various websites.  Nebil, a regular contributing columnist for the last 7 years on  T24 news website, has been a member and director in various organisations. Nebil has published a book called "Bitcoin and Kripto Paralar, Sistemi Yıkan Bir Araç Olabilecek mi?". 
Dr. Uygar Özesmi
Ecologist and Ashoka senior fellow  Dr. Uygar Özesmi is the founding member and proactivist for  Good4Trust.org which he founded  in order to establish a prosumer economy for  ecological and social justice. He is also the director of The Prosumer Economy Society.  Uygar Özesmi is a visiting lecturer at Kadir Has Üniversitesi Energy Systems,  Istanbul University  Sociology and Bilgi University Business Administration Departments and he is also a board member in Ashoka and ENİVA foundations. Özesmi has published more than one hundred scientific and popular articles and a book. He  also  regularly hosts  a slot in Açık Radyo.
Faruk Eczacıbaşı
After completing his degree in Berlin Technical University, Faruk Eczacıbaşı joined the Eczacıbaşı Group in 1980 and was responsible for managing the company's "e-transition" process for many years. He is the chairman of Turkey İnformatics Foundation founded in 1995 with a vision to contribute Turkey's preparation for the industrial period and works through the foundation to prepare various research reports and strategies.  Faruk Eczacıbaşı became the vice chairman of the management board in 1996 and still continues in this capacity. In his book "daha yeni başlıyor" which was published in 2018, Eczacıbaşı ponders on the advantages and disadvantages of the technological advancements and discusses what awaits the world in the future with all the pros and cons.