The conference series initiated by Hisar School Innovation Center in honor of the 25th Anniversary of our School, to contribute to the knowledge of our youth and society about the future, continues in February. In this year's series of the conference, we take our discussions on the future one step furtheri discussing current problems and propose solutions to create a sustainable system for our planet, humanity and all living things.
Our conference titled "Sustainability and Technology: A Dangerous Climb", will take place on Wednesday, February 16, 2022 at 19.30 on the online platform. Our guest is Hakan Bulgurlu, CEO of Arçelik; will share the breakthroughs in white goods and consumption technology in our country and in the world, successes and failures in the sustainability process, what disruptions can be expected in different stages of the industry, and what needs to be done. Hakan Bulgurlu's reference to his book "The Dangerous Climb" about the story of his journey to Everest in order to draw attention to the climate crisis, and examples of how he internalized this issue in his personal life, will undoubtedly be a source of inspiration for both our youth and us.
Hisar School Technology and Innovation Policies Advisory Committee Chairman Prof. Dr. Çelik Kurtoğlu, holding extensive experience in the field of industry in Turkey and Middle School Science Department Head Nihan Şehsuvaroğlu, who will be the moderator of the conference will contribute to the conference and pose interesting questions to our guest. Nihan Şehsuvaroğlu, being selected as one of the most successful Global Schools advocates in the world has been leading the sustainability projects in our school.
Thanks to the "Open Source" approach implemented by Hisar School, with the awareness of social responsibility, our third conference will be broadcast live on our school's Youtube channel and open to the public, students, their families and educators across Turkey. On our 25th anniversary, which we are celebrating with the principle of making contributions to the society; we will seek answers to the question of what kind of a future we should imagine for our youth in the changing world. We look forward to being together with you all at the conference, where we will focus on the responsibilities imposed on all of us through the global development goals.
Kind regards,
Hisar School

Hisar Talks: Let's Now Talk About The Truth…
Date: Wednesday, February 16, 2022
Time: 19.30
Guest: Arçelik CEO, Hakan Bulgurlu
Zoom Live Stream Link:
https://us06web.zoom.us/j/86904642416?pwd=Q3BhS3FIU082cjNXZmpZK0NoT0E3UT09
Passcode: 027307
Webinar ID : 869 0464 2416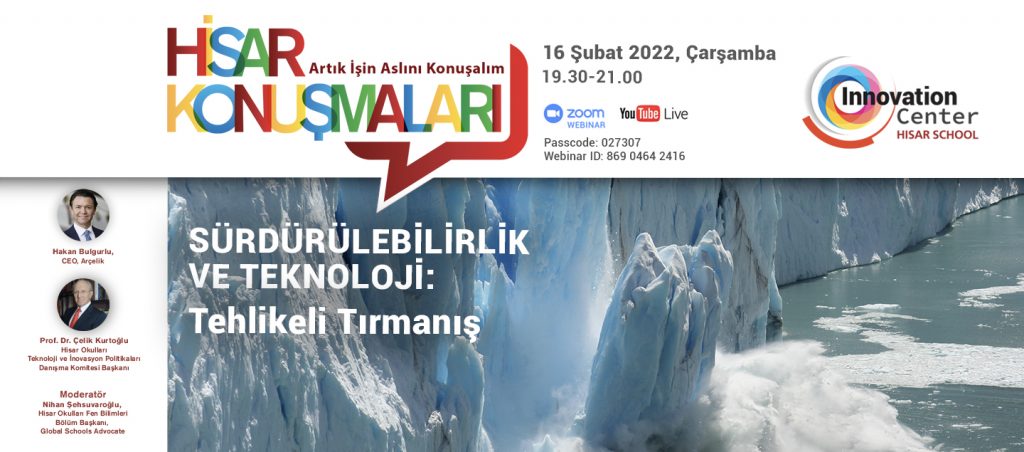 Hakan H. Bulgurlu
Hakan H. Bulgurlu is a leading international businessman, and an environmentalist. He is the head of Arçelik, a leading global manufacturer of home appliances, where he has been CEO since 2015. Arçelik has annual revenues of five billion euros, is listed on the Istanbul Stock Exchange and its brands hold prominent leadership positions across global markets.
Under his leadership, Hakan has helped grow the company into an inclusive, sustainable, and responsible business. His vision turned Arçelik into an Industry Leader in the Dow Jones Sustainability Index and saw the company included in the FTSE4Good Index for five consecutive years. Arçelik has succeeded in becoming carbon-neutral in global production with its own carbon credits, achieving a major move and an industry first.
He is a much-sought after speaker at global conferences on topics such as climate change, the environment and green business. To support the efforts for a transition to a low carbon economy, he joined the High-Level Commission on Carbon Pricing at the World Bank.
Hakan is a member of the Young Presidents Organization and a founding member of Amstel Dialogues, a CEO round table of European leaders that aims to increase the speed of European innovation.
After graduating from the University of Texas, Austin with a bachelor's degree in Economics and Mechanical Engineering, he earned his MBA from the joint program of Northwestern University and the Hong Kong University of Science and Technology.