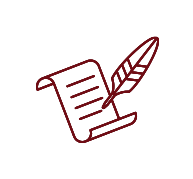 Hisar School is proud to be the home to the first Writing Center to service a K-12 school in the region.
The Hisar Writing Center opened its doors in the 2019-2020 Academic Year. Writing centers are found in most top high schools and universities in the United States and are becoming more common in European higher education. The philosophy of these centers aligns perfectly with our school's mission to help each student reach their full potential. 
Mission: What We Do
We collaborate with all departments to improve and foster writing throughout the school. We host workshops for staff to help their own writing and to continuously develop Hisar's approach to teaching and learning literacy skills. We also train students to be peer tutors and to use collaborative learning when assisting their fellow students to become more confident and capable writers. We run one-on-one tutoring sessions that honor each visitor to the center as a writer.
Vision: What We Want
In keeping with the mission of our school as a whole, we aim to create a community of writers among students and staff who understand and use collaboration as a tool for self-development. We will create a community confident and fluent in the writing process, a community that sees writing as a tool for learning and fostering critical thinking. The writing center will not just be an additional service, but a central component in achieving the values and mission of the school. We do not aim to create better writing, but better writers. Every individual at Hisar is a writer, and we are there to guide their progress.
Our Team



Jeffrey Gibbs
Writing Center Coordinator




Stephen Freer


Assistant to the Coordinator



What happens at the Writing Center?
A lot! The center plays a variety of roles for Hisar School. If you visit us, you might see:
One on one tutoring sessions with writers with different levels of confidence in their writing. They will be discussing assignments from a variety of disciplines (science, history, English, etc.) and their assignments will be at different stages of development. They might be doing research for an essay, brainstorming, or revising a final draft.
Peer tutors or teacher tutors engaging with writers face to face about their writing. These tutors wear many hats. They are there as interested listeners, experienced coaches, and practical resources.
Small focus groups working on differentiated learning targets. These groups have been planned together with the tutors and subject teachers.
Special interest workshops for both students and faculty. These workshops are designed to meet the specific needs of our school and sometimes take place outside of the center.
Teachers consulting with writing center staff about strategies to incorporate more writing into their curriculum and to get the most out of their writing assignments.
Writers leaving the center more confident in their own writing and with a clear action plan.

Our students and teachers can make appointments with the Writing Center team through HisarNet.
What you can expect when you make an appointment at the center
Our room is a welcoming and relaxing place where you can sit down with someone who is interested in you as a writer. Your tutor wants to help you develop and express your ideas as clearly and effectively as possible. During the session, the writer is always in control of their writing. The tutor simply provides tools and strategies and shows how to use them. Whether they are in early brainstorming stages, or later stages in the writing process, the goal is for them to leave the session with skills they can use for the rest of their lives. 
Book Releases with Columbia University Student Press
Origin Stories, a collection of original poetry, fiction, visual art works and essays by Hisar High School students, was published as the first book of Hisar Students in collaboration with Columbia University Student Press in June 2020.

In August 2021, the second book titled "S.T.E.A.M. Punks", in which our students explore different branches of science through writing and art, and which they wrote with an interdisciplinary approach under the guidance of our teachers, was published.
In June 2022, the book "From the Heart", consisting of poems by our 4th Grade Primary School students, was published as the third work in collaboration with Columbia University Student Press.
In July 2022, the book "Versus", which consists of articles, poems and stories written by our High School students focusing on the concept of conflict, becomes the fourth study published in collaboration with Columbia University Student Press.
Where are we?
Our Main Center, where our High School and Middle School students and teachers mainly work, is located on the 2nd floor of Block B.
The Writing Skills Center Jr., which we opened to meet the needs of our Primary school teachers and students, is located on the 2nd floor of Block A.

Communication:
Our students can make appointments for Writing Skills Centers on HisarNet.
Our academic staff who want to cooperate with us or get support from us can use the Google Form.
E-mail: writingcenter@hisarschool.k12.tr